Check out our 10th Anniversary Photos on our "Photo" page.
Who We Are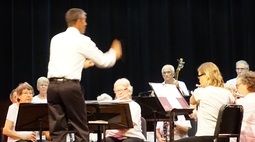 15 August 2016 at D-Y High School - 4:30 PM
The
New Horizons Band – Cape Cod
is part of a program with groups all over the country. The program is for adults who are:
Who want to make new friends, and
Who want to share their love of concert band music.
The band is for both those who have never before played an instrument and would like to participate in a group setting
and also
for those who used to play but haven't in some time.
Have you ever wanted to experience the joy of music by playing an instrument? We provide that opportunity for adults on Cape Cod to learn to play musical instruments, even if they have never played before.
---
Players wanted (with an emphasis on Low Brass):
Trombone
Tuba
Baritone Horn
French Horn
Baritone Sax


Also welcoming:
Saxophone
Clarinet
Oboe
Flute
Trumpet
Certain percussion (please ask)


Note: We are a concert band. Please, no strings or piano. If that is you, have you considered learning to play a wind instrument? Some of our musicians may be able to help.

Other instruments need the consent of our Director.